Aug 29, 2022 - Sep 01, 2022
All Day
90th Anniversary
CCWC will be celebrating its 90th Anniversary in October. We have a weekend of events planned to make this a praise celebration to God for his faithfulness to our church.

CHURCH DIRECTORY
As part of this celebration, we will be doing a pictorial directory as a commemoration of this milestone. We are hoping every family gets their picture taken so they can be a part of this directory. Each family photographed for the directory receives a complimentary  8 X 10 portrait and directory. This is our gift to the family to thank them for participating. You will be given the opportunity to purchase other photos at the time of the appointment.
The dates for the Portrait schedules are August 29, 30, 31 and September 1.
Online Scheduling Available!
To schedule your photography appointment online, simply go to www.ucdir.com, click on photography appointment scheduling login on the right side, enter oh2593 in the Church Code field and enter photos in the Church Password field.  Follow the prompts to schedule your family's appointment time.  If you have 6 or more in your family please use 2 consecutive time slots.  The online scheduling option is available Monday through Friday.  Appointments fill up quickly, so schedule as soon as possible to secure your preferred date and time.
When you click on the link, a login and password will be required. Use this information: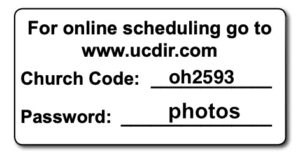 Event Categories
No Categories
< Events